Million Trees Photo Challenge

Have you planted any trees or shrubs in the last 3 years? If so, how much have they grown and changed?

The community's top priority is greening our city. The

Million Trees Project

helps residents keep track of the number of trees and shrubs being planted to meet the community aspiration of a greener City expressed during the 2029 and Beyond community consultations.

To date more than 134,000 trees and shrubs have been planted by residents on their properties or at

community tree planting days

. Share photos of your plants so we can see just how things have grown.

0

1

Days Remaining

Photos Added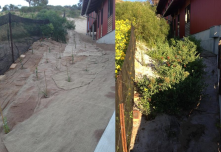 Seedlings bought from Community Nursery and planted Aug 2014. Excellent advice and amazing results! Thank you CGG...